Innovative Skincare
What sets Millionaire Beautyapart?
We start with beautiful organic & natural ingredients, we add the most innovative actives and finish with natural fragrances that make you smile!
No nasties, no toxins and lots of goodness for your skin!
Natural Skincare
Where nature's best gifts meet cutting-edge science!
Other skincare brands use an active ingredient or two, whereas you can find up to 30 fabulous ingredients in some of our products and they are loaded with active ingredientsthat reveal flawless, radiant skin with every application!
Who's talking about Millionaire Beauty?
We've been featured in magazines, news papers and online!
Let us know if you spot us anywhere x
Matrix DNA - Skin Lifting Serum
Matrix DNA lifts, moisturises, protects, illuminates and fights the ageing process
Now with more Matrixyl 3000 to reduce wrinkles by up to 60% and Sepilift to visibly tighten and lift the skin!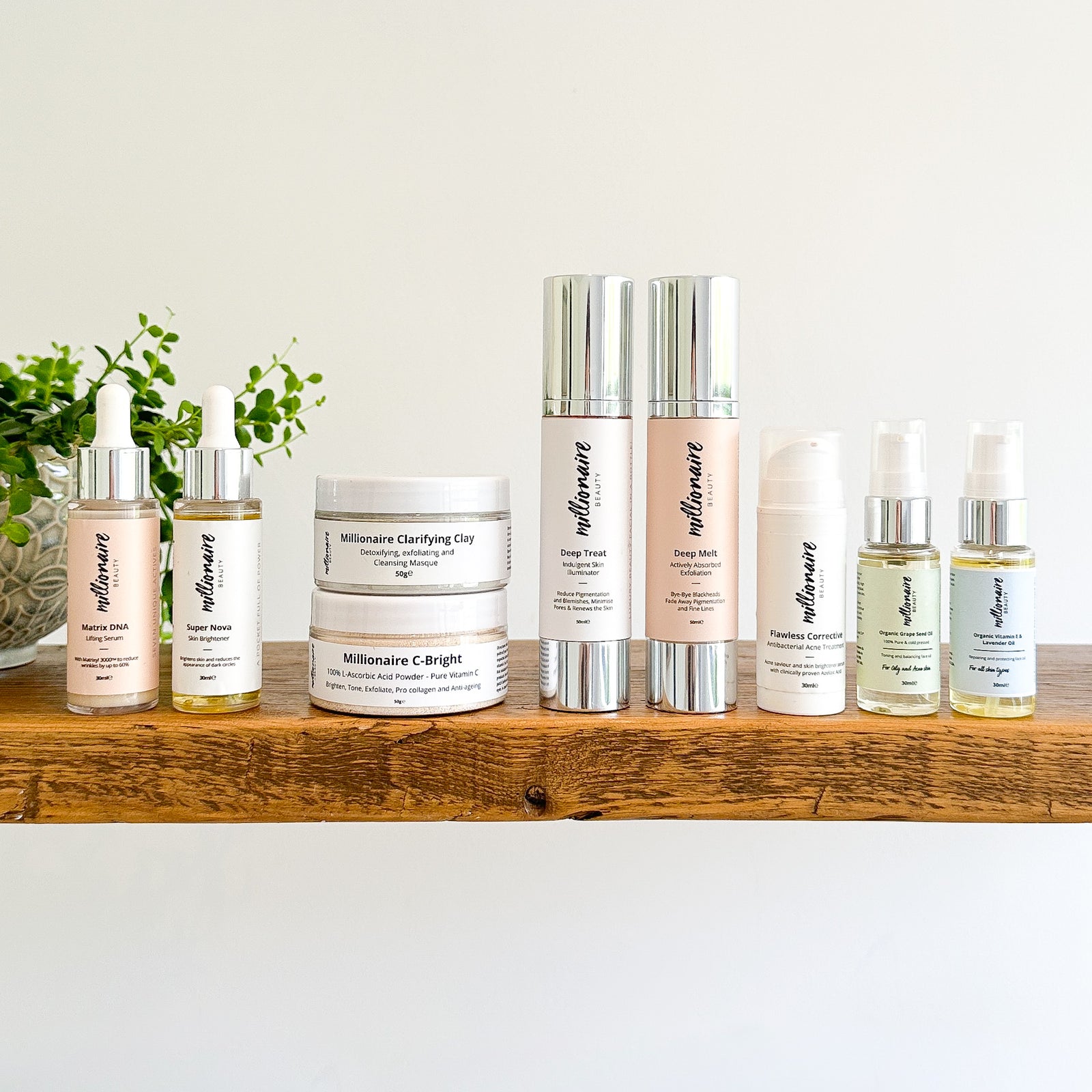 Luxury Organic Skincare That Works
How old you are is your business.
How young you look is ours.
Deep Treat & Deep Melt
Together, the perfect pair for perfect skin!

Millionaire Melt works deep in your pores to cleanse and tackle damaged skin while Deep treat works the surface of the skin to remove dead cells and damages skin on the surface. when used together as a nightly routine you will see brighter glowing skin and reduces pores, pigmentation and dullness. If you're going to buy just one set of products this is it!
Why Millionaire Beauty?
Millionaire Beauty offers a range of natural, organic skincare products using the latest incredible active ingredients from science and research and blending them with super ingredients from mothernature to give you the best skincare world has to offer!
A collection that will exfoliate, hydrate, moisturise, protect and tighten all types of skin. All our skincare products are organic, vegan, and contain natural ingredients that renew the skin, minimise dark circles and reduce pigmentation.
The Millionaire Beauty collection has a cult following because it works and our customers trust us to keep delivering the best products with no compromise xoxo