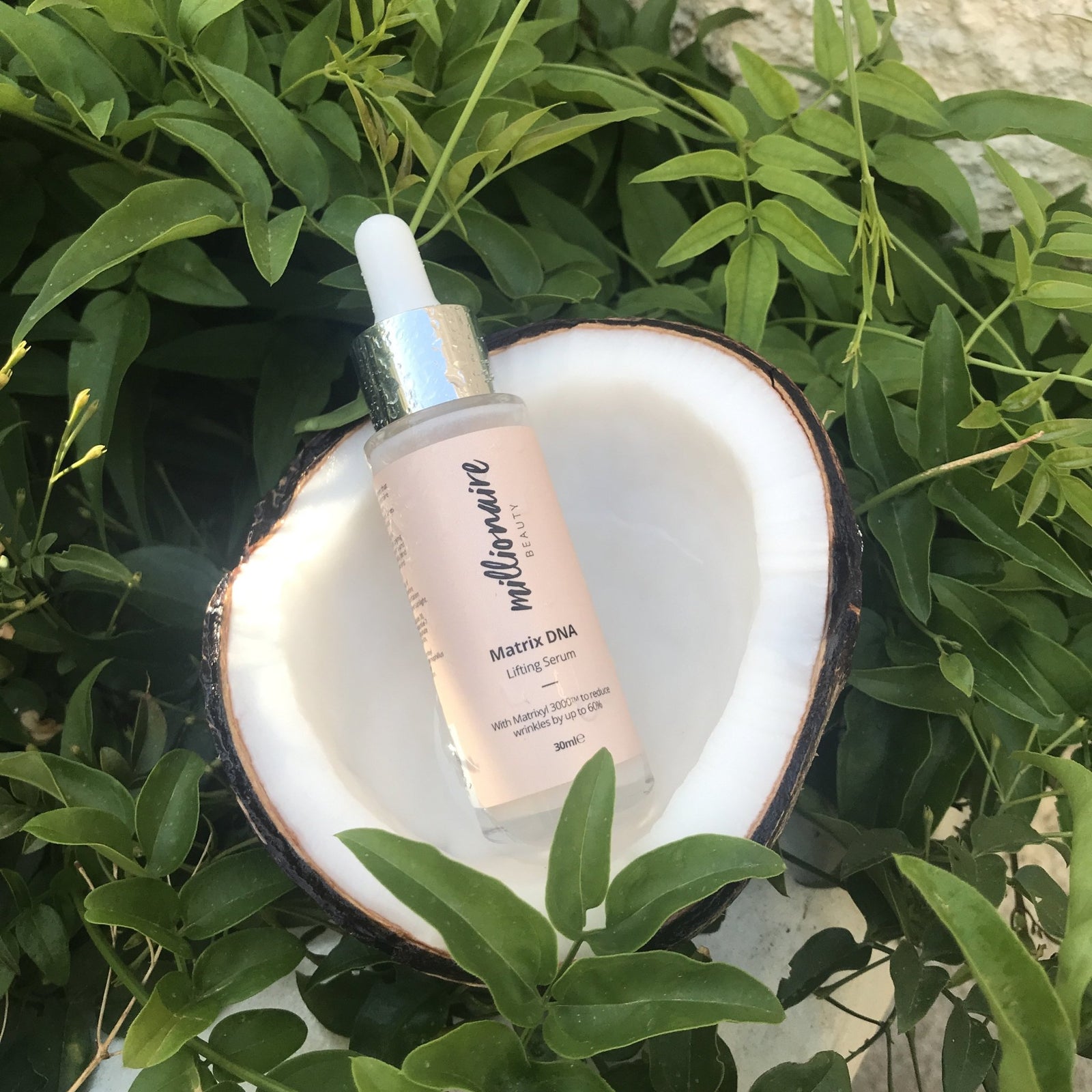 Every other day, there is something new that everybody swears by. Whether it's hot yoga or cold showers, it's hard to keep up.
Here at Millionaire Beauty, we like to stay away from the fads and stick to the facts – especially when it comes to skincare.
Each product is made full of specific active ingredients that work to fight off specific skin problems.
When it comes to anti-ageing products, the ingredients have to specifically target the cause of ageing skin to be able to see a difference.
What is Matrixyl 3000?
Matrixyl 3000 is an amazing anti-ageing ingredient that works long term to stimulates collagen production, leading to smoother, more elastic skin.
Matrixyl 3000 comes from Matrixyl – which are peptide proteins. This specific peptide is renowned for its long-term benefits of being able to stimulate collagen production and repairing damaged skin.
Matrixyl 3000 works to reduce the appearance of fine lines and wrinkles, as well as many other skin issues such as blemished and dryness! You can expect to see a healthy glow, reduction in inflammation, as well as youthful looking skin when you regularly use Matrixyl 3000!
What product is pack with Matrixyl 3000 you ask?
Matrix DNA protects against infrared radiation and ultraviolet radiation, the two main culprits in causing inflammation, dehydration and wrinkles in our skin! 
Hyaluronic Acid, Vitamin C and Dipalmitoyl Hydroxyproline work with Matrixyl 3000 to fight the ageing process at a genetic level, lifting, tightening, firming, brightening and hydrating for maximum anti-ageing effects!
How to useMatrix DNA effectively:
Skincare products have the potential to be extremely effective tools to improve your skin. However, when used incorrectly, you don't usually get the most out of the products.
Apply after cleansing and before moisturising
For serums – like Matrix DNA – to work properly, they need to be in direct contact with your skin. Therefore, cleansing and exfoliation is key, to rid your skin of any dead skin cells, dirt, grime, makeup or sweat is an important step that mustn't be missed. This will ensure that the products are given the opportunity to work at full potential.
Understand what it works for
Matrix DNA is a blend if ingredients that works to address many skin problems and protects against specific environmental factors, which include:
Fights the ageing process at a genetic level
Combats oxidative stress
Lifts and tightens the skin on the face and around the eyes
Deeply moisturises - skin feels fresher, smoother and looks more radiant.
Protects against moisture loss
Protects against inflammation
Illuminates the skin - fades out pigmentation, treats dry red patches and gives a brighter, more even complexion.
Although Matrix DNA does moisturise the skin, it is not a replacement for your moisturiser.
Now that we understand what Matrix DNA is, why don't we formulate the perfect skincare routine?
The first step to this skincare routine is the Millionaire Cleanser.
This creamy cleanser is the first step in your everyday cleansing routine. Its designed to rid your skin of grime, make-up and dead skin cells, it also locks in moisture and protects from bacteria and pollutants.
Next? Exfoliation. Using Peeling and Polish is something your skin will thank you for.
Peel & Polish is rich and creamy - a high-end brightening exfoliator infused with anti-ageing and organic ingredients. It cleanses, sheds dead skin cells and tightens pores. Rich in Vitamin C, it'll leave your skin smoother and brighter after each use.
When using this unique exfoliator, you can actually feel the old, bad skin coming off, making your skin look brighter and younger and paving the way for serums and moisturisers to do what they do best - revitalising and nourishing your skin.
Step 3 is the wonderful Matrix DNA .
Matrix DNA has a grainy texture - it's because of all the active ingredients. So, give it a good shake, then massage in gently with your fingertips, in the morning and last thing at night. Pay particular attention to the under-eye area where lines and wrinkles tend to be deeper.
And finally, moisturise. We all know by now how important moisturisation is, so let's not skip this step. Grab your bottle of City Defence, blend in the moisturiser between your fingertips and apply it onto your face in upwards motions.  
City Defence contains 20% Vitamin C (natural skin brightener) and 7% niacinamide (Vitamin B12 - strengthens and reduces blemishes) to protect the skin's elastin and collagen from pollution, harmful chemicals, environmental damage, UV light and biological threats.
Simple right? Follow these 4 fool proof step and you will see a difference in your skin!
How old you are is your business. How old you look is ours.