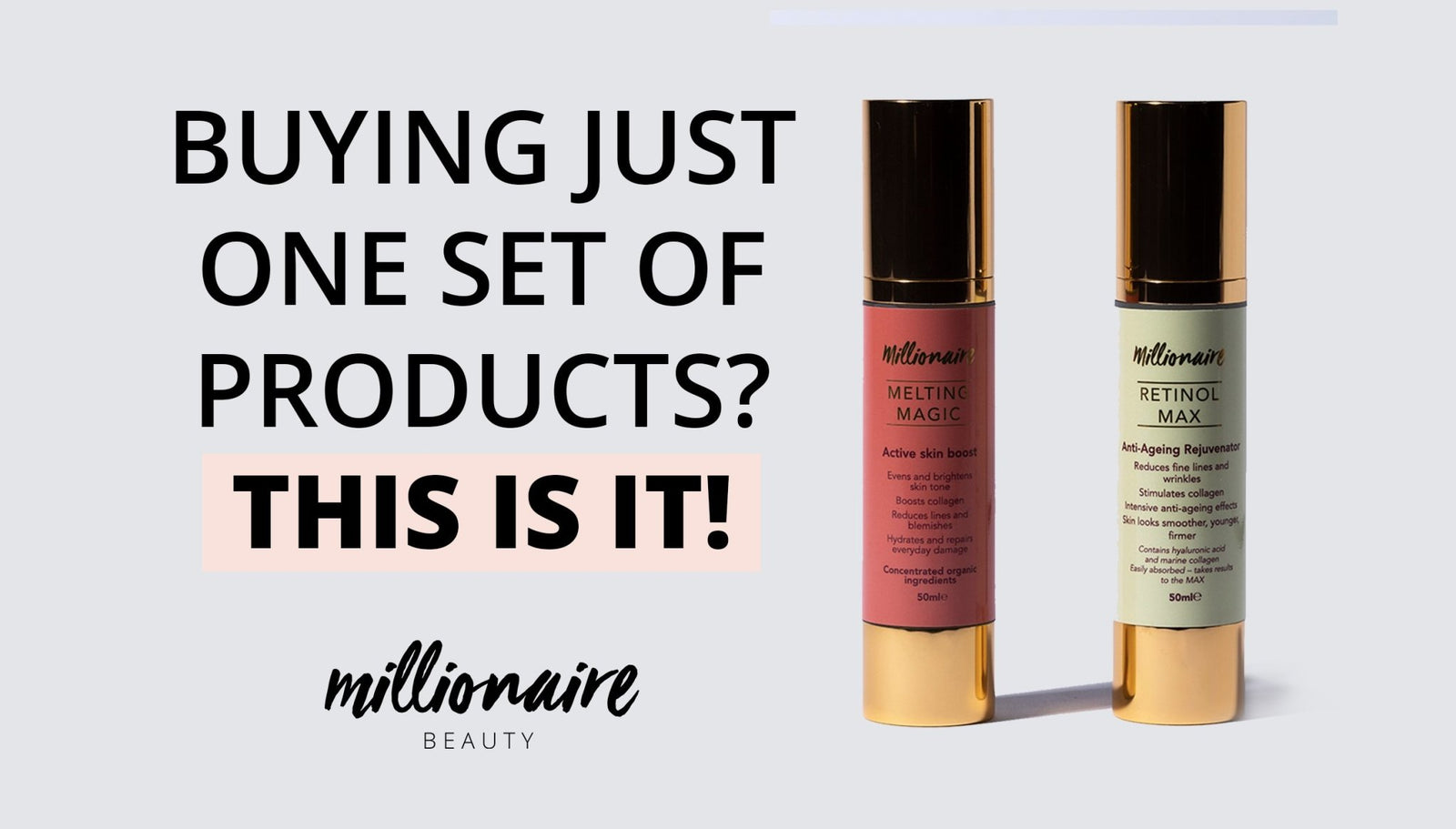 Together, the power couple of my brand, Millionaire Melting Magic and retinol MAX, target a range of specific skincare issues.
Whether you suffer with acne and acne scarring, dark spots, hyperpigmentation and uneven skin tone, fine lines and wrinkles - MAX and Magic are the products for you.
Max and Magic for acne


Melting Magic is a gentle exfoliator which is ideal if you suffer from spots and breakouts.
You never want to be too harsh with acne, but AHAs like Glycolic Acid are great for gently melting away dead skin cells without causing irritation. It also paves the way and prepares the skin for the penetrating effects of retinol.
Retinol is the holy grail for acne – it reduces blocked pores and prevents blackheads from forming. It's wonderful for reducing the redness and inflammation often associated with acne and as well as 1% retinol, retinol MAX also contains hyaluronic acid and marine collagen to rejuvenate, soothe and nourish the skin.
Max and Magic for acne scarring and dark spots
The AHAs in Millionaire Melting Magic work beautifully at fading out dark spots and breaking down pigmentation and acne scarring. Magic works deep into the cells to unclog pores, brighten skin tone, reduce scarring and fade out dark patches.
retinol MAX then stimulates new cell production. It boosts collagen and rejuvenates the skin. A by-product of that is that it really helps to even out skin tone and reduce the appearance of acne scars. Together, they leave fresher, clearer looking skin.
Max and Magic for fine lines and wrinkles
The unique combination of AHAs in Millionaire Melting Magic hydrates and exfoliates, reducing the appearance of fine lines and wrinkles and melting away uneven patches. You can use it as an exfoliator, a toner or a serum – but use it 2-3 times a week and you'll definitely notice the difference!
retinol MAX contains 1% retinol which gives it serious anti-ageing attributes! It rejuvenates and produces fresh collagen, fights free radicals, then firms, smooths and refines the surface of the skin. It's a miracle in the fight against ageing! To reduce fine lines and wrinkles and achieve brighter, clearer skin, you really need to use this magic duo 2-3 times a week.
Max and Magic as a skin brightener
Both Melting Magic and retinol MAX have seriously good skin brightening qualities. Use them together at least 2-3 times a week and you'll see the difference.
Melting Magic can be used as a serum, a toner or an exfoliator. Or you can leave it on overnight and let it act as a super facial. It not only exfoliates (gently removing layers of dead skin cells) but targets specific issues too. It reduces fine lines and uneven skin tone, making skin visibly clearer and brighter and revealing a glowing compexion.
retinol MAX encourages new skin cell renewal, brightening the skin and rejuvenating it. It unclogs pores, reduces fine lines and wrinkles and absorbs beautifully, boosting collagen production leaving a fresher, clearer complexion.
How to use:
Apply Melting Magic first to gently exfoliate and prepare the skin.

Follow with a pea-sized amount of retinol MAX (start slowly with any retinol-based product and build up gradually).

Then moisturise well using either Polypeptide Nourishing Moisturiser or City Defence Vitamin C moisturiser.

Always use a broad spectrum UVA protector the following day.
All our skincare products are UK-made and completely natural. We've developed many of them to target specific skincare issues like acne, scarring and pigmentation.