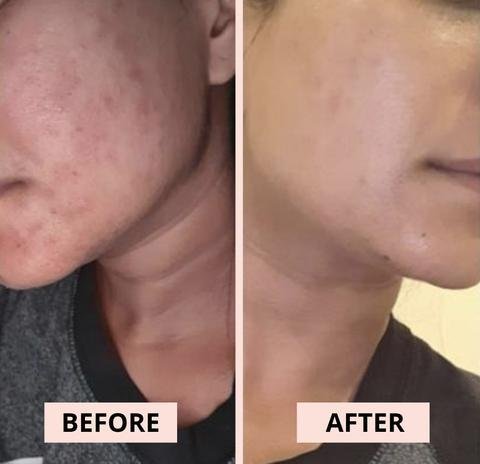 During the course of our lives, most of us will suffer from acne. For some, drinking a little more water will do the job. For others, its slightly more complicated than that. It is important to remember acne is not only a "teenage" problem. Some people develop it in their 20's and 30's and can make us feel incredibly self-conscious.
My advice? It's quite simple:
Pick and choose your skincare products carefully – look at the ingredients and make an informed choice
Wash your face at least twice a day
Change your pillowcase daily (clean sheets for your face!!!)
Eat a clean diet – cut out excess sugar
Increase water intake to cleanse toxins from the body
Check or test for food intolerances that trigger your outbreaks
Understand how certain skincare ingredients work with others to achieve the best results for your skin
So – what can cause acne?
Hormones act on oil glands making them increase oil production, leading to pores becoming blocked and bacteria can form that causes inflammation and spots.
Genetics – this isn't always the case, but acne can be inherited.
Diet – there is some evidence that dairy can cause acne, but certainly food that gives a spike in blood sugar or glucose (for example, pizza, sweets, sugar, soft drinks and white bread) raises the blood glucose levels. This in turn promotes the release of insulin, which increases the production of both sebum and androgen. Plenty of vitamin C and low sugar should help
This is our pick of Millionaire products that work really well for both acne and acne scarring:
Melting Magic – a gentle exfoliator with AHAs like Glycolic Acid that gently melt away dead skin cells, reducing acne scarring and leaving fresher, clearer skin.
Use it at least 2-3 times a week, as a serum, a toner or an exfoliator – or leave it on overnight and let it act as a super facial.
City Defence Vitamin C Moisturiser - brightens, repairs and protects
City Defence contains 20% Vitamin C (natural skin brightener) and 7% niacinamide (Vitamin B12 - strengthens and reduces blemishes) to protect the skin's elastin and collagen from pollution, harmful chemicals, environmental damage, UV light and biological threats.
The exfoliators in our Super Vitamin C range work hard to eliminate the build up of dead skin cells, dirt, oil and impurities in the pores - and Millionaire City Defence Vitamin C Moisturiser defends the skin and reduces any damage caused.
Flawless Corrective - a spot, acne and skin redness serum
This fantastic anti-bacterial acne treatment is new to Millionaire Beauty for 2020. Your skin will look noticeably brighter in just 21 days - and that's a promise!
With medical grade Azelaic Acid, our Flawless Corrective Serum is a miracle treatment for acne, spots and breakouts. But it's also a gorgeous toner that smells of sherbet, gives skin a ZING and sets you up for the whole day!