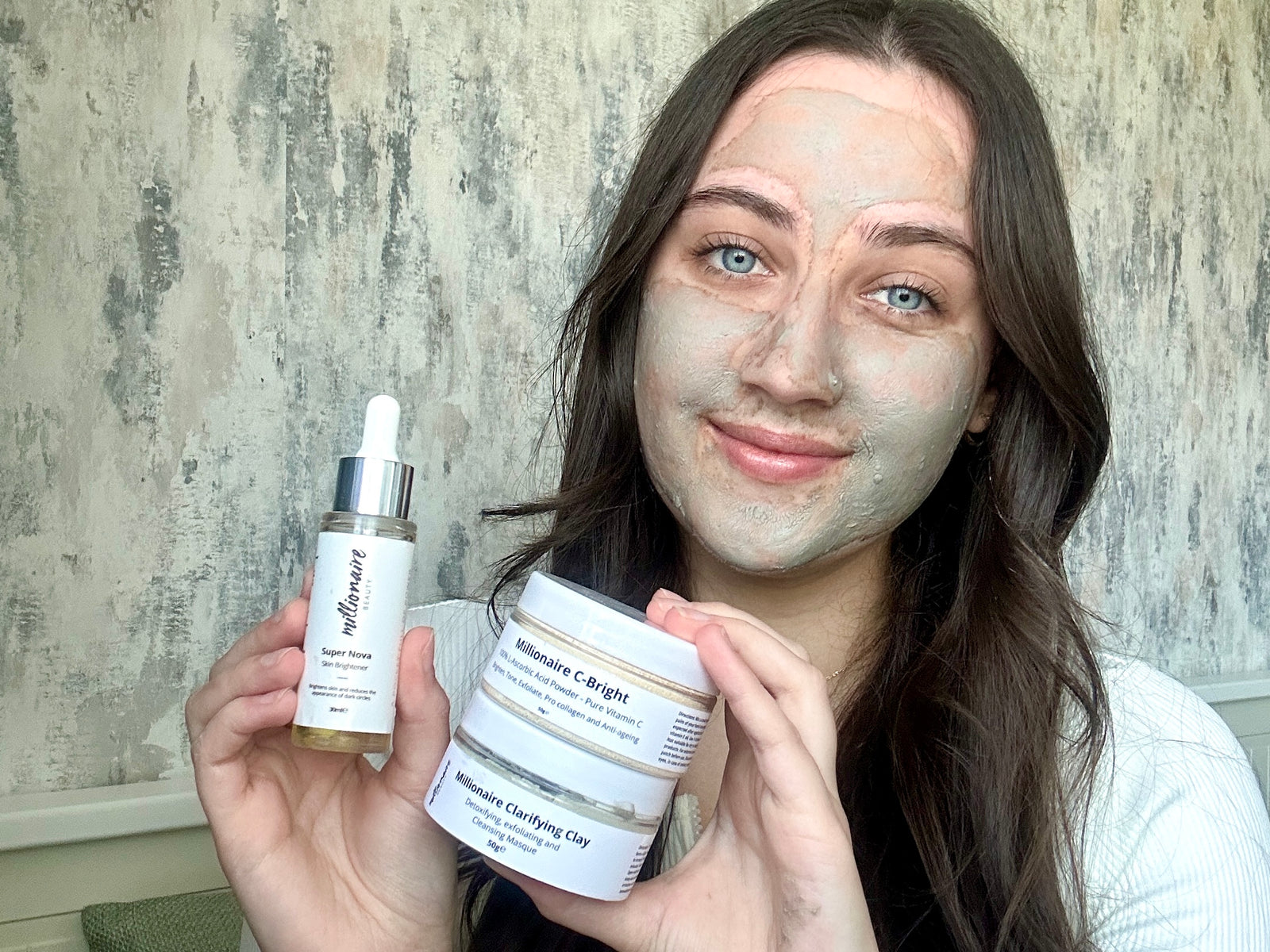 Facials are an essential part to everyone's skincare routine! Facials can be hydrating and nourishing plus they're a great way to treat any skin concerns, such as; acne breakouts, pigmentation, dark circles and even ageing. 
Dermatologists and most skincare professionals recommend getting a facial at least once a month. This may be hard to maintain for some of us with our busy schedules, fear of skin irritation and less face it, they can be pricey.
Does anyone else get uncomfortable laying on salon beds for anytime up to an hour? Or worry about what products are being lathering onto their face? I sure do.
At home facials are the perfect solution for anyone who gets anxious with others touching their face or simply doesn't have the time or expenses for it. 
Millionaire Beauty has combined 3 organic products for a luxurious, skin brightening at home face masque. First the Clarifying Clay Masque which contains minerals including calcium, magnesium and iron to help rid your skin of toxins. Followed by Super Nova, a powerful facial oil that uses Chromabright to brighten skin. Along with C-Bright which is pure vitamin c. 
All you need to do is mix these 3 products together (which is sold as a bundle for a discounted price) with a few drops of water to form a smooth clay masque. 


Your skin will be left feeling hydrated and smooth in comparison to other clay masks which usually dry out your skin. You'll also notice an instant boost of radiance and after the first 3-5 uses, clearer skin.
The Products You Will Need To Make This Masque :
Millionaire Beauty Clarifying Clay
Millionaire Beauty Super Nova
Millionaire Beauty C-Bright
All 3 can be brought together as part of the Brightening Boost Bundle for a discounted price. The good part is that each product can also be used on their own as a separate skin treatment.
Step-To-Step Guide On Making The Brightening Boost Masque :
Add 3-5 tablespoons of the Clarifying Clay to a bowl 
Add 2-3 drops of Super Nova (increase the amount of Super Nova if needed)
Sprinkle some C-bright on top
Mix well until a smooth clay paste is formed 
Apply generously to your skin 
Allow 10-15 minutes for the masque to absorb 
Wash masque off with lukewarm water 
For the best results in less than 31 days, use 1-2 times a week.
You can also mix in other facial oils that target your skin concerns at the given time... for example if your experiencing a breakout, add a few drops of grape-seed oil. 
The Skin Benefits Of Millionaire Beauty's DIY Brightening Boost Face Masque :
Brightens skin
Calms and clears active breakouts
Fades and prevents pigmentation and dark circles
Evens skin tone and texture
Hydrates and nourishes skin
Helps heal damaged skin barrier
Removes toxins from skin
Why wait for a booking slot at a salon or schedule your day around facial appointments when you can do weekly ones from the comfort of your home? Go on, give this masque a try!