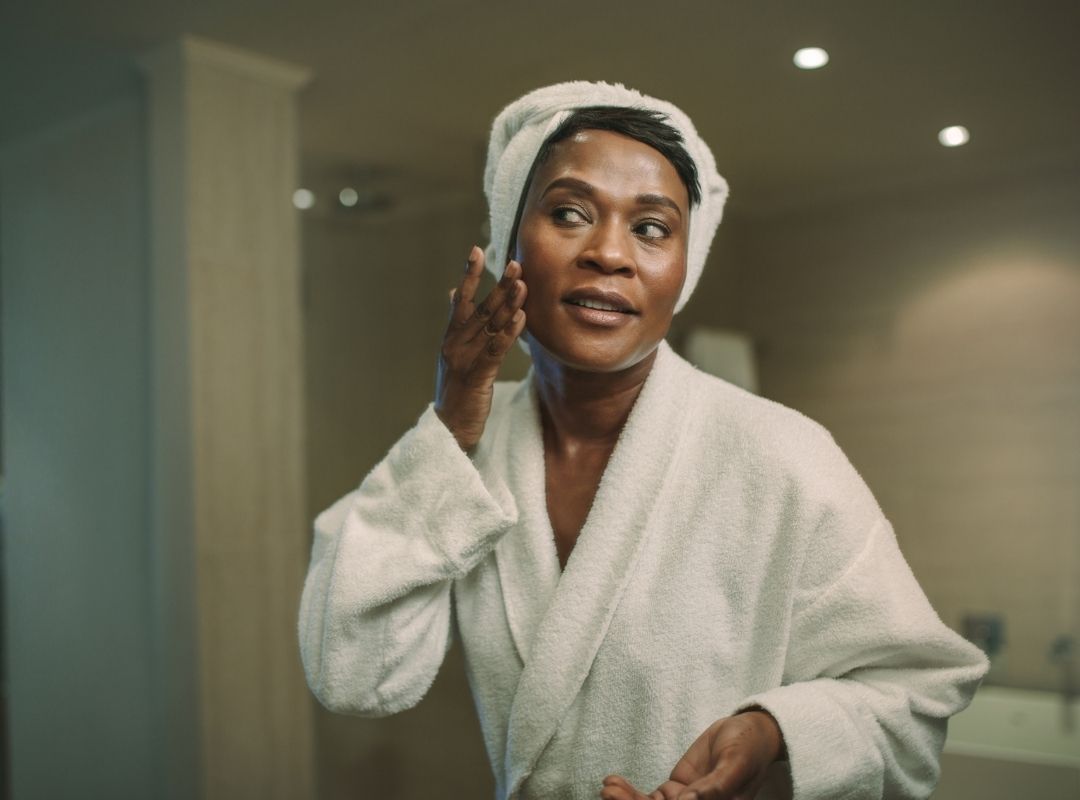 Just like those embarrassing moments in high school, acne is one of those things you expect to forget about once you enter adulthood. But – unfortunately – acne may jot just disappear because you're now an 'adult'; it doesn't care how old you are, it will live on your face just because it wants to!
Adult acne can be caused by clogged pores, bacteria, overproduction of oil and hormones fluctuations. Even stress can cause your skin to break out.
So how can we get our adult acne under control?
Unfortunately, your high school skincare routine simply won't cut it anymore. Walking into a drug store and grabbing a bottle that has no active ingredients isn't going to do much for your skin.
Personalise your skincare routine
Just because your friend is using almond oil on her face, doesn't mean you should be. There are so many things to take into account when it comes to skincare routines – skin type, skin conditions, level of sensitivity, existing problems and so much more. Understand your skin. Know what works for it and go with that – rubbing coconut oil on your face isn't going to do much for you other than clog your pores!
Find the root cause of your skin problems
There are so many different types of acne – from inflamed versus not inflamed, hormonal, environmental and so much more. That is why it is important to know what you're are treating.
Not all types of acne can be treated the same way.
What treatment plan should I go with?
With so many options out there – and so many contradicting opinions – it is important to understand what actually works. To put it simply, active ingredients are what helps you treat your acne and other skin problems.
There are 10 active ingredient – maybe more – active ingredients that we are obsessed with:
Antibacterial component
Retinol
Salicylic Acid
AHA's
Glycolic Acid
Citric Acid
Hyaluronic Acid
Vitamin C
Niacinamide
Azelaic Acid
For more information on these, read our skincare blog on active ingredients!
The ultimate adult-acne skincare routine:
Step 1: Cleanse
The first step to any great skincare routine is always cleansing. Cleansing allows you to remove the build-up of dirt, grime and sweat that has decided to reside on your face. Our Millionaire Cleanser is an effective cleanser with anti-bacterial protection. This cleanser locks in moisture and adds a protective layer to your skin against bacteria and pollutants. This cleanser is very gentle and can be used enough on all skin types – but is also concentrated enough to truly cleanse your skin.
Step 2: Exfoliate
Exfoliation is the next key step to getting rid of adult acne. Acne is caused by clogged hair follicles. These follicles can be clogged by oil, sweat, dirt, dead skin cells and more. Exfoliating removes the dead skin cells that should have been removed by own skin. But because sometimes our skin needs a helping hand, we have to exfoliate. Our Peel and Polish is a great exfoliator that removes dead skin cells, resurfaces the skin, brightens and lifts and so much more.
Step 2.1: Face Wash
If you've read our ultimate guide to exfoliation, then you know exfoliating everyday isn't ideal for your skin and could lead to further damage. That is why using our Millionaire Skin Glow Face Wash between using Peel and Polish is the way to go.
After cleansing, our Millionaire Skin Glow Face Wash is the next step getting rid of your adult acne. The skin glow face wash is a gentle, creamy daily face wash that cleans the skin and removes daily grime leaving you super clean and glowing, without stripping your skin of its natural oils. With vitamin c and AHA's, this is the perfect face wash to help you rid your skin of certain flaws and allow you to achieve clearer skin.
Step 3: Power Lift Trio Regime
Healthier, brighter, younger looking skin seems to be what we are all chasing. With the Power Lift Trio, that is possible now more than ever. These are our wonder products. Perfectly pH balanced, they work together to gently exfoliate and polish, fade out fine lines and wrinkles, stimulate new collagen and protect against inflammatory agents like IR and UV radiation. They work together to protect and brighten the skin!
Use Matrix DNA twice a day, every day, to fight the ageing process at a genetic level and give your skin the ultimate defence against daily living. 
At night, gently exfoliate with Melting Magic, allowing it to fully absorb into the skin - then 2-3 times a week, apply Retinol Max, a superpower for the skin that smooths out fine lines and wrinkles, helping your skin look younger, fresher and brighter.
Step 4: Pimple treatment 
When it comes to treating the individual spots, Azelaic Acid is the ingredient you want to be looking out for. Our Flawless Corrective Serum for spots and acne contains Azelaic Acid – a clinically proven miracle acne reducer and skin brightener. We call it our GLOW serum because it improves skin brightness, reduces pigmentation and saves your face! It's an unbeatable acne saviour, helping to treat the symptoms of acne and reduce redness and rosacea!
Step 5: Moisturiser
One of the most obvious steps in any skincare routine is moisturiser. Moisturising has many benefits – read about blog on the benefits of moisturising to find out more.
Our City Defence Moisturiser is an flawless moisturiser, perfect for protecting your skin against the harsh conditions of a polluted city. City Defence contains 20% Vitamin C (natural skin brightener) and 7% niacinamide (Vitamin B12 - strengthens and reduces blemishes) to protect the skin's elastin and collagen from pollution, harmful chemicals, environmental damage, UV light and biological threats.
It is important to note that treating acne is rarely an overnight success story and does take time and commitment. With Millionaire Beauty, achieving great skin is attainable now more than ever.
How old you are is your business. How old you look is ours.