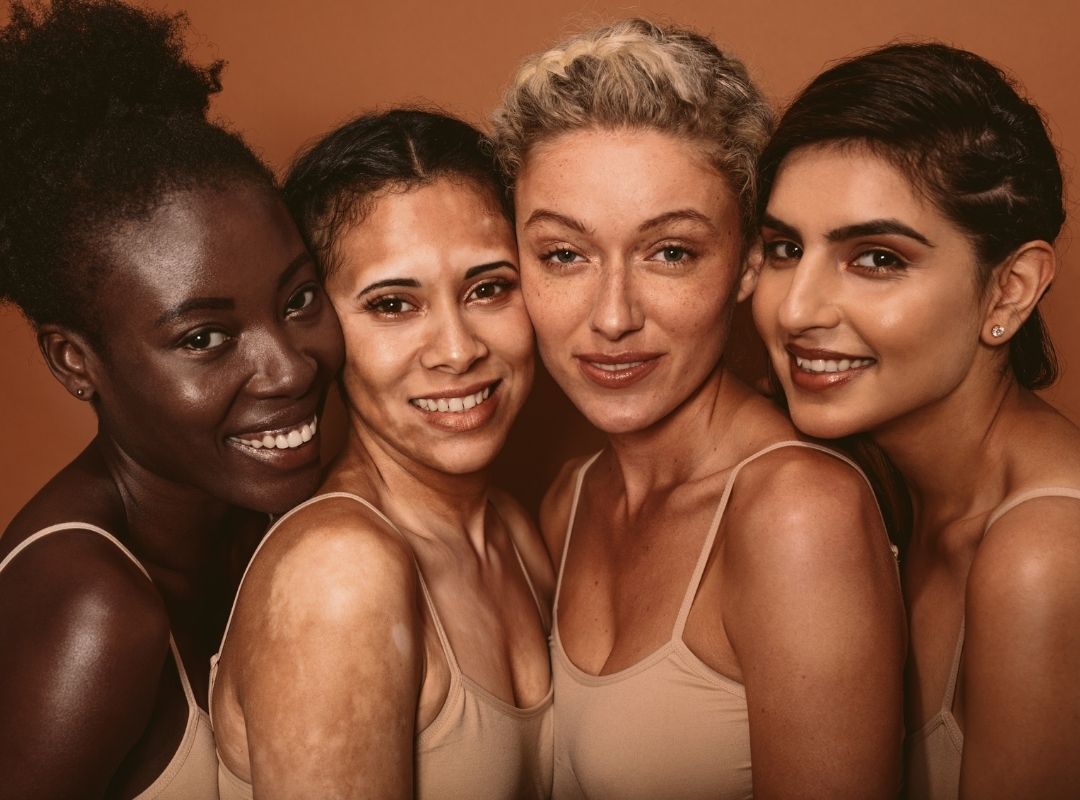 Skincare can be intimidating. It's a mix of art and science and there is so much to understand. That is why we like to keep things a simple as possible when it comes to understanding the products – the ingredients however are far from simple!
To fully treat and care for your skin, you need to understand what your skin type is and what it needs:
Normal Skin
For those of you who have normal skin, how does it feel to be the universes favourite?
How can you tell: breakouts aren't really a thing you struggle with. New products and weather changes don't impact your skin negatively. You don't need to blot your face ever 30 seconds or moisturise often because your skin feels like the Sahara deserts. Fine lines and wrinkles aren't a concern and your skin is firm.
Tips: Keep doing what you're doing or thank your genetics for great skin!
Although wrinkles aren't on your list of things to worry about, moisturisation is key. It will prevent fine lines and wrinkles and protect your skin. That is why we recommend our City Defence Moisturiser. City Defence contains 20% Vitamin C (natural skin brightener) and 7% niacinamide (Vitamin B12 - strengthens and reduces blemishes) to protect the skin's elastin and collagen from pollution, harmful chemicals, environmental damage, UV light and biological threats. Give your skin the protection it deserves.
Oily Skin
People with oily skin usually know they have oily skin; but if you don't here's how you can tell.
How you can tell:Your skin is constantly glowing, but in a greasy type of way. Blotting sheets and mattifying makeup products are something you can't go without. And when you do wear makeup, it breaks up, slips around the skin or completely disappears.
Tips: We know it hard to look at the bright side with skin concerns, but people with oily skin tend to have fewer wrinkles! The top Millionaire Beauty regime for oily skin would have to be the Millionaire Super Vitamin C Range for Oily Skin. Our Super Vitamin C range contains peptides, Vitamin C, rose quartz, orange oil and a wealth of antioxidants and replenishing ingredients. Vitamin C is a natural skin brightener that repairs and protects the skin from damage caused by the weather and the environment.
Shop all products for oily skin here.
Dry skin
Just like people with oily skin, people with dry skin usually know they have dry skin.
How you can tell:Flakiness, sensitivity and cracks are all issues you know all too well. Your skin lacks any form of hydration and this seems to be leading to fine lines and wrinkles. The environment also plays a big role on your skins condition.
Tips:Looking after your dry skin starts with sealing in the moisture. That is why we recommend our Polypeptide 3 step regimen. The three steps in the Millionaire Polypeptide range work in synergy to protect and refine dry skin. With a super exfoliator, a light day serum and our rich and creamy moisturiser, the range is brimming with antioxidants, vitamins, peptides and hyaluronic acid to deeply penetrate and nourish. If one skincare product or ingredient did everything, it would be a super product! In fact, we often need more than one to target different areas and issues and this is where my Polypeptide 3-step range works wonders.
Shop all products for dry skin here.
Acne-Prone Skin
How you can tell:frequent breakouts and the breakouts that have decided to live rent free on your face usually means you have acne prone skin. This just means your pores are easily clogged, meaning you're more likely to suffer from whiteheads, blackheads and pustules.
Tips: keeping your skin exfoliated, treated and hydrated are the keys steps to fighting off the acne and getting clearer skin.
Start your routine with Peel and Polish. This rich and creamy exfoliator contains Vitamin C, AHAs and BHAs that brighten, exfoliate and hydrate, leaving skin perfectly soft. Using Peel and Polish will prevent blackheads and whiteheads.
Next, treat your spots with the Flawless Corrective Serum; it contains Azelaic Acid – a clinically proven miracle acne reducer and skin brightener. We call it our glow serum because it improves skin brightness, reduces pigmentation and saves your face! 
Finally, lock in all that greatness with the City Defence Moisturiser; contains 20% Vitamin C (natural skin brightener) and 7% niacinamide (Vitamin B12 - strengthens and reduces blemishes) to protect the skin's elastin and collagen from pollution, harmful chemicals, environmental damage, UV light and biological threats.
Now aside from your skincare routine, you need a face mask. Our Millionaire Meridiem is the perfect product for a skin pick-me-up. 10 minutes is all it takes! Meridiem is an instant brightening mask is packed with AHAs and BHAs to leave your skin beautifully soft. Leave it on for 10 minutes and see the difference, as it penetrates the skin's layers and helps to lift away impurities!
Shop all products for acne-prone skin here.
Mature Skin
Signs of ageing skin is pretty much universal.
How you can tell:Wrinkles, dryness, sagging, dark spots, dullness and dehydration are all signs of ageing skin.
Tips:If you do have mature skin or even maturing skin, anti-ageing products are a great place to start. Products which boost collagen production and cell turnover rates will work wonders on your skin. The best regimen for mature skin is the Power Lift Tri. These are our wonder products. Perfectly pH balanced, they work together to gently exfoliate and polish, fade out fine lines and wrinkles, stimulate new collagen and protect against inflammatory agents like IR and UV radiation.
Use Matrix DNA twice a day, every day, to fight the ageing process at a genetic level and give your skin the ultimate defence against daily living. 
At night, gently exfoliate with Melting Magic, allowing it to fully absorb into the skin - then 2-3 times a week, apply Retinol Max, a super power for the skin that smooths out fine lines and wrinkles, helping your skin look younger, fresher and brighter.
Shop all products for mature skin here.
How old you are is your business. How old you look is ours.