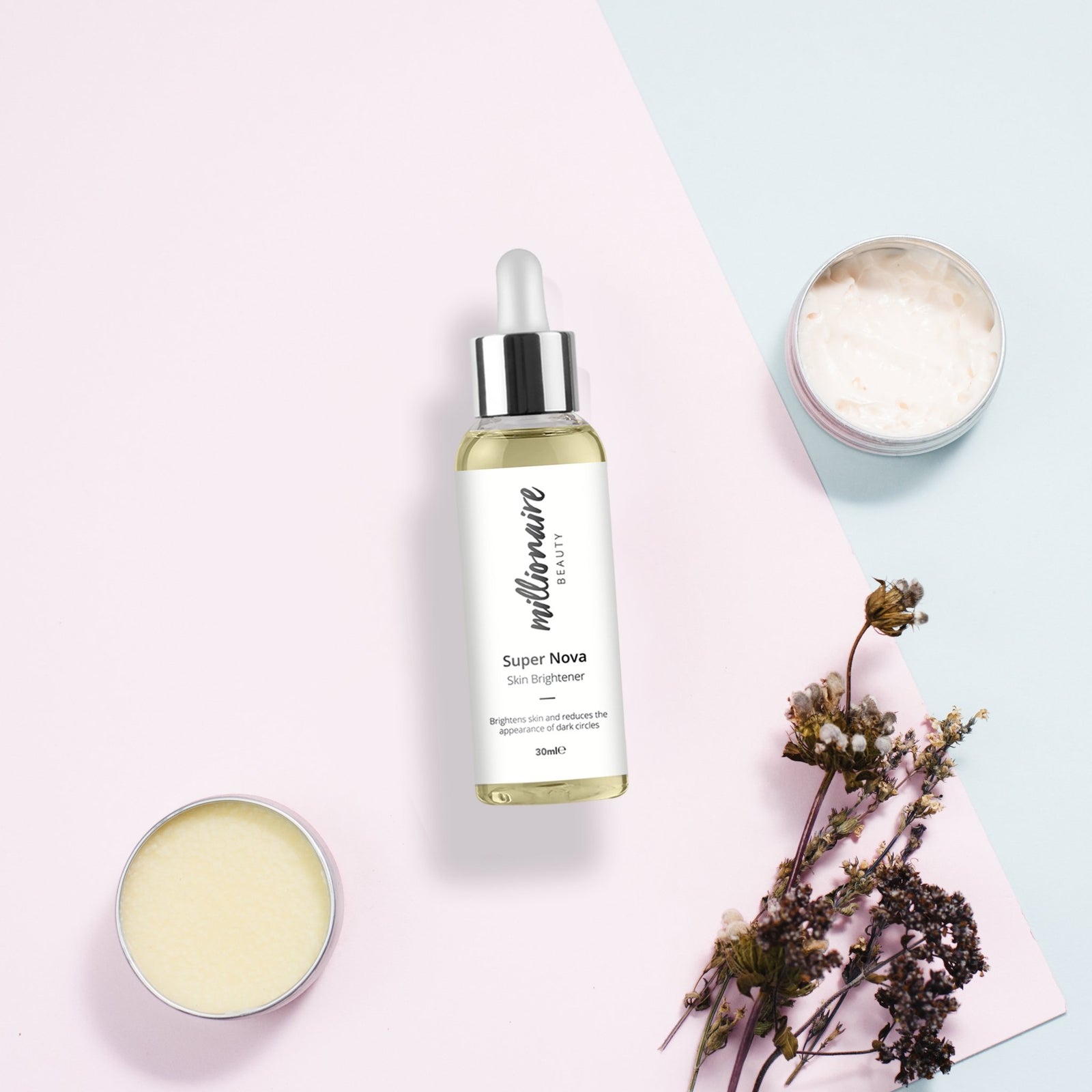 Many women have to deal with the struggle of hyperpigmentation on a daily basis.
Hyperpigmentation can be caused by an increase in melanin which is the natural pigment that gives our skin, hair and eyes their colour.
There are many factors that cause hyperpigmentation from increased melanin production to sun exposure. Other factors may be hormonal influences, age skin injuries and inflammation. 
Now, I'm sure you're all wondering how to deal with hyperpigmentation.
The answer to that is Super Nova. 
What is super nova you ask? Super Nova is a powerful blend of pure botanical oils and vitamins rich in antioxidants and essential fatty acids.
I love super nova not only because of its light texture, but also due to the fact that it brightens skin and nourishes it beautifully, reducing age spots and improving the appearance of skin damage.
Millionaire Super Nova is light enough to be used on all skin types, even oily skin. But don't be fooled, it might be light but it's extremely powerful - it contains Chromabright, an amazing ingredient with a 25% skin brightening success!
What Super Nova does:
Reduces age spots
Repairs damaged skin
Treats and prevents acne
Reduces the appearance of acne scarring
Smooths out uneven skin tone
Hydrates, lifts and firms' skin by boosting collagen levels.
Brighten skin, lighten dark under eye circles
How to use:
Apply a few drops of Super Nova under your eyes, on dark patches to lighten them, or add a few drops to your moisturiser for an all-over nourishing effect. You can even dab a little on your scars the day after using Melting Magic.  
Once you've used this, you'll never use another face oil again. It's better than anything on the high street, plus it smells divine (super bonus!).
Super Nova can be used daily as part of your skincare routine and can be applied anywhere on the body.
Shop the full range of Millionaire Beauty UK-made skincare products. You'll love them!
As we always say, how old you are is your business, how young you look is ours!